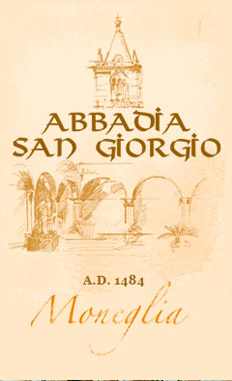 In the heart of Moneglia
Abbadia San Giorgio
An enchanting historical dwelling between Portofino and the Cinque Terre.
Staying at our dwelling
• In between the Cinque Terre, Santa Margherita Ligure and Portofino, Camogli and San Fruttuoso and many other enchanting places to visit.
• Discover the italian history from an exclusive point of view.
• Abbadia San Giorgio is situated in the village's historical centre, just a few steps from beaches,restaurants and bars. The train station is easily reachable on foot.
• Free parking (only for direct bookings made here or on our website) and free wifi.
The Rooms
Original details and antique forniture blend with more contemporary pieces in a pleasing harmony between history and present.
Our rates per room per night  are from 175 euros to 305 euros.
Honeymoon Suite · Small Classic Double · Large Double · Junior Suite · Suite
Services
• Breakfast
From 8:00 to 10:00
A delicious smell of home-made cakes welcomes you as soon as you enter the breakfast room. Taking breakfast in the cloister and enjoying its tranquillity and beauty is the perfect way to start your day.
• Aperitifs
From 17:30 to 19:30
The upper portico, with its comfortable armchairs and splendid view of the internal garden, is the ideal place to sip a glass of wine accompanied by bruschetta and canapés.
• Yoga
Lessons can take place in the early morning or late afternoon. Lessons are available in Italian and English. The service must be booked at least 24 hours in advance.
• Massages
They are only possible in the Honeymoon Suite, Suite and Junior Suite. The service must be booked at least 24 hours in advance.
• Boat Trip
A relaxing half day boat trip to discover the hidden coves of Moneglia with the possibility of a stop for a swim and a small picnic on board.
Contacts
P.le San Giorgio
16030 Moneglia (Genova)
Italy
Phone +39 0185 491119
Fax +39 0185 490270
VAT n. 01594450999
info@abbadiasangiorgio.com
A unique experience in a restored Abbey. This is a very quiet bed and breakfast experience that is personal and delightful. Walk out the door and enjoy the small town of Moneglia. Hard to imagine a place to live more graciously.

Pleasantly surprised at the beautiful rooms, personalized service and peaceful surroundings. Breakfast was wonderful with lots of choice - home made pastries and jams, range of cheeses, charcuterie, freshly squeezed juice and lots more. Attentive and engaging hostess. Enjoyed our stay.

Trinidad

We couldn't have stayed at a better place in Moneglia - or with better hosts. The Abbadia itself is a charming and meticulously maintained space, and the rooms are huge and spotlessly clean and perfectly appointed. Every detail has been thought of - from steam showers, to toiletries and hair dryer, to luxe slippers and delightful and abundant breakfast of homemade goodies. Greta was a wonderful host - recommended outstanding restaurants and day trips, even checking boat schedules for us. Honestly - no detail was overlooked to make our stay special, and when we left I literally hugged everyone and felt like we were leaving close family friends. We loved our stay and could not recommend the Abbadia and our wonderful hosts more.

California

A wonderful tranquil place to stay. Nothing was too much trouble for the staff to make sure we had a perfect stay of 4 nights. Excellent breakfast. Good recommendations for dinner and visiting interesting places.

Australia

We stayed for 4 nights and loved every minute. It was so peaceful and quiet. The staff are all absolutely wonderful and despite our very limited Italian and their limited English they went out of their way to ensure our requirements were met. Fabulous breakfast each morning set us up for the day. We found it great to be away from the crowds of the cinque terre towns which were easily accessed visiting by train. There are lots of great restaurants in Moneglia and lovely walks in the hills or along the beachfront. We will come back again.

Australia

Stayed at the Abbadia in July 2014 and it was amazing. The rooms were always clean and filled with such character. The service was above and beyond- you are treated like family the second you walk in. Thank you for making our stay in Moneglia amazing! Cannot wait to return.

Canada

I had the best time ever at Abbadia san Giorgio. All the staff were accommodating, helpful, funny, warm and just really great people. The breakfast was unbelievable, fresh fruit & organic yoghurt, cheeses, salamis, omelettes, poached eggs, scrambled eggs, bacon, different breads, delicious home made cakes, cappuccinos, and the best best ever hot chocolate. The rooms are spacious and have quality finishes & fittings and organic toiletries. The town is beautiful and the Abbey is very close to the station and the beach. I will be back.

Australia

Been there in early / mid September and enjoyed the Location Moneglia as well as the Abbadia so much: Service and staff are very, very friendly and helpful. The environment of the monastery is second to none with its quiet courtyard and the beautiful church next to it. The railway station with access to Cinque Terre in merely 3 minute walking distance reachable; beach as well in 3-4 minutes. -- Can only highly recommend it and will come again!

Austria